The Keeper app is a feature-rich environment designed to help you manage your write-offs and file your taxes! Below is a roadmap to help you navigate every tab and feature available in the app.
You'll see the Write-offs tab once you log in to the app. Much of your experience with Keeper will be focused on this page. Here you can manage your write-offs and access Tax University to read up on specific tax situations.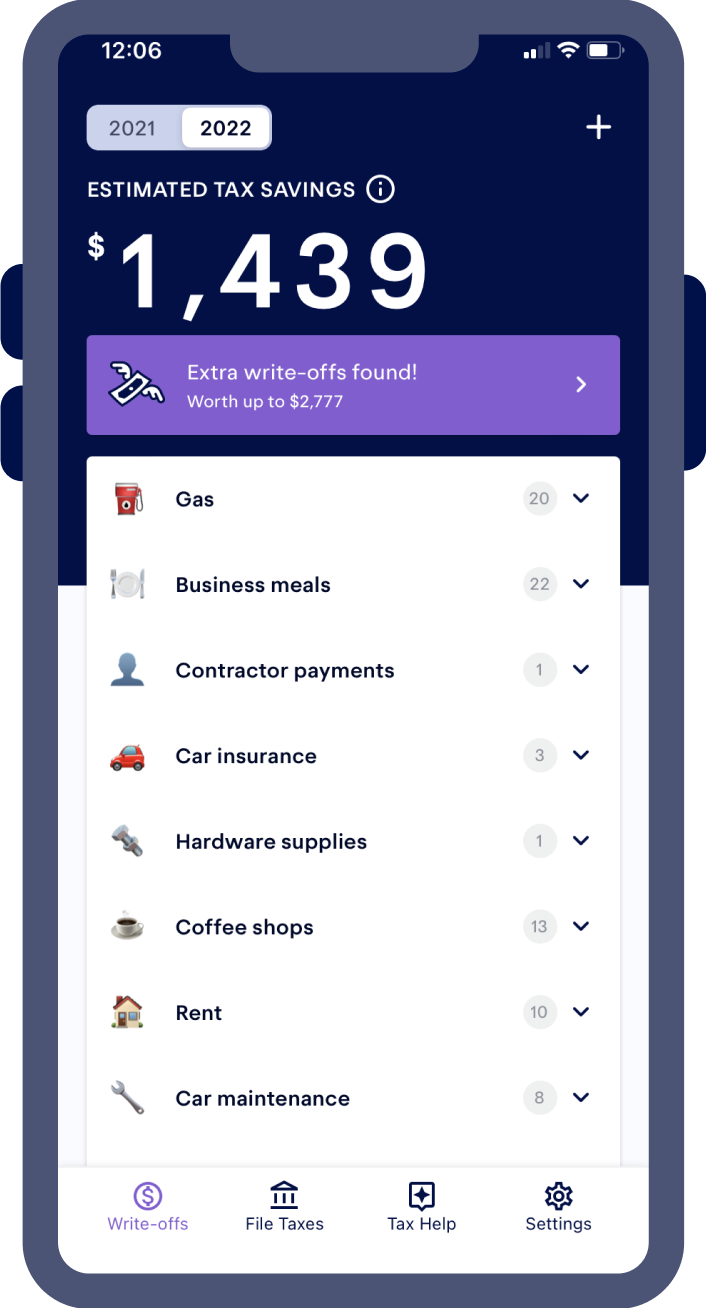 With the touch of a button, you can jump back and forth between your write-offs for this year and from last year.

The icon in the top right corner is where you can manually add a write-off.

All you need is:

The name of the purchase
Amount spent
Category
Date

Don't forget to hit Save so it gets added to your business write-offs.

This is an estimate of the money you'll get back from the government at tax time, either as a tax refund or a bill reduction.

Keeper does the math so you don't have to. For those that want to know, the value is determined by multiplying your tax rate by the dollar value of your total tax deductions.

Don't worry, there won't be a test.

Tap on "Extra write-offs found!" to view a list of your most recent potential write-offs.

You'll be taken to a comprehensive list of your transactions which have been automatically assorted based on your tax profile. With a tap of a button, you can mark each expense as either a write-off or a personal expense.

Checking this area of the app frequently to correctly mark each expense is a great habit to develop. More write-offs equal more tax savings!

💡 Tip: Tapping on Extra write-offs found! or Search all transactions are both easy ways of accessing a full list of your purchases and write-offs.
Tapping on any expense in the Write-offs tab opens up a list of tools to help you micro-manage the transactions that are added to your list of write-offs.

You can tap on a specific purchase to:

Edit the amount spent

Edit the write-off category

Mark the purchase as a write-off

Remove it from your write-offs
And by tapping on the down arrow in a specific category you'll see all the added business write-offs. Take here the Gas category for example:

You can view all expenses in each category by tapping on . Reviewing these sections is a great way to stay organized and ensure all your business write-offs are tracked.

You can also review all your business write-offs by category here.
When you scroll down further you'll view all transactions. This is where you can see recent transactions.

If you tap on see all transactions you'll be taken to a list of all your transactions. From here you'll be able to filter your transactions by:

Suggested
Write-offs
Personal
Year
Category
Account
Amount
| | |
| --- | --- |
| You can access the Tax University from here. The academy has a ton of useful articles where you can learn all about your taxes. | |
| | At the bottom of the Write-offs tab, you can give us a rating on how you're liking Keeper. |